Les voies de l'interaction et les hiérarchies urbaines
In this chapter are recalled the multi-secular effects of proximity constraint, or more generally accessibility, on the organization and evolution of systems of cities. The central argument is that the historical modalities of the spatial interaction between the cities constitute the major explanation of their current configurations, their organization in networks and the regularities observed over time in their dynamics, as well as their common and relatively predictable evolution. The interactions, which are generating this dynamic of cities, lead to a growing interdependence of their future. It is also through their interactions that archaeologists, historians and geographers contribute to consolidate knowledge for the construction of an evolutionary theory of cities. Such knowledge is essential if we want to find levers of action to improve the way we live on and with Earth.
Dans cette présentation sont rappelés les effets multiséculaires de la contrainte de proximité, ou plus généralement de l'accessibilité, sur l'organisation et l'évolution des systèmes de villes. La thèse est que ce sont les modalités historiques de l'interaction spatiale entre les villes qui expliquent pour une bonne part leurs configurations actuelles, leur organisation en réseaux et les régularités observées au cours du temps dans leur dynamique, leur évolution commune et relativement prévisible. Les interactions, fondatrices de cette dynamique des villes, entraînent une interdépendance croissante de leurs devenirs. C'est aussi par leurs interactions qu'archéologues, historiens et géographes contribuent à consolider les connaissances utiles à la construction d'une théorie évolutive des villes, indispensable si l'on souhaite trouver des leviers d'action pour améliorer notre façon d'habiter la terre.
Fichier principal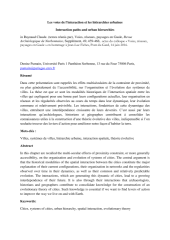 Pont du Gard.pdf (729.76 Ko)
Télécharger le fichier
Origin : Files produced by the author(s)